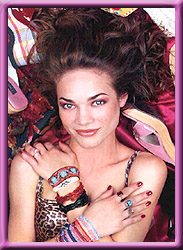 Hi! I think that Becky Herbst is the most amazing actress in the entire world! I like her a lot! She is my Supreme Ultimate Idol. That means that she is the best! She is cool, wonderful and so many other things. I know a lot about her. I talk about her ALL the time. She has become a household name in my family and where ever I go. We have a lot in common.

I'm SO happy for her and Michael! They are going to be very happy together. They are gonna make great parents!

I have met her and she is really nice:) She cares about her fans. I have written to her and sent her letters, cards, pics and many other things. She has written me back and has sent me a little card with a poem on it and a pin that says "Lucky Lady". She has also sent me the usual autographed picture postcards and photos. They are great! I have over 1,200 pics of her! I have sent them to her and she has autographed them for me and sent them back.

If you have met her or written to her or both, then you know what I mean. She is so great! I'm so happy:) that she was born. She has amazing talent! On TV, in movies, on commercials, on the ice rink, in gown design, singing and dancing. She's gorgeous and a Goddess. She deserves any award that she is given. Like I said before, she is the best!